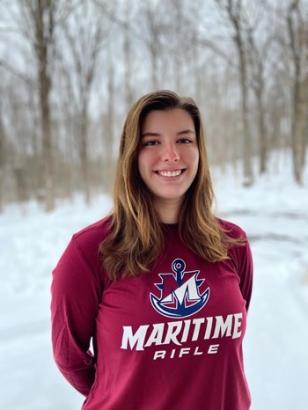 The Connecticut Maritime Association Education Foundation recently released its 2020 Annual Report featuring Maritime College sophomore Stephanie Rota as the recipient of the largest scholarship awarded, a $10,000 grant. Among the 20 winners nationwide who were selected after a stringent process, Stephanie was one of seven Maritime College students to receive a prestigious CMAEF Scholarship.
Rota is "very honored" to have received the award and recognition as she continues to pursue her undergraduate degree in Naval Architecture. The Greenwich, CT native has always possessed a creative spark, spending her summers as a child with her father on worksites, discussing the intricacies of how the smallest and largest things were designed and built. In high school, her favorite class was shop, and she spent much time engaged in discussion with her instructor. It was, in fact, her shop teacher who recommended she attend Maritime College. Rota was initially surprised when she received word of the scholarship. "It's something you see other people getting, but when it's you, it feels surreal." When she was announced the winner at the ceremony, she met prominent members of the maritime industry who shared their enthusiasm in seeing a young scholar pursue a career in the field. The overall experience, as well as her entry into the maritime industry, filled her with a great sense of pride.
After completing her education, Rota intends to work in ship design with a special interest in luxury vessels and/or submarines. She is also considering advancing her education in Naval Architecture.
Learn more about CMAEF and view a listing of all scholarship winners here.