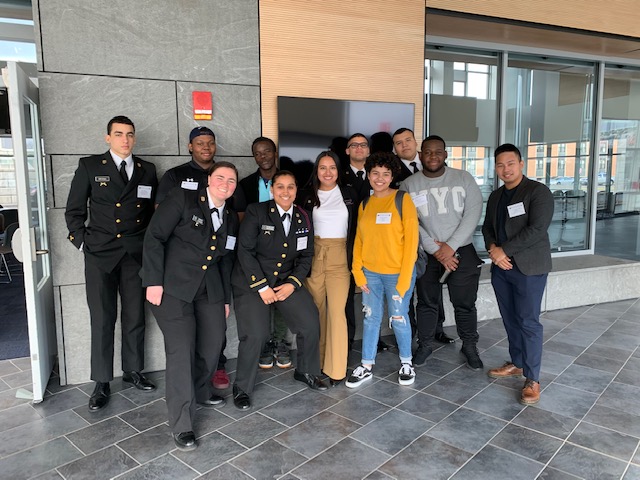 Mission
The Educational Opportunity Program (EOP) at Maritime College provides college access to students who show promise by offering academic support, counseling, financial assistance and advocacy.
Overview
EOP provides academic support and financial assistance for eligible students who show promise. Students are admitted to the program before their freshman year.
Transfer students may be eligible if they were enrolled in a similar program at their previous college/university.
Admission to EOP
To be eligible, you must meet the following criteria:
Be a New York Resident for at least a year.

Not meet the college's traditional admissions standards. To qualify, they must show the potential to complete a college program.

Fall into a category of financial need as determined by income guidelines. Please refer to the SUNY website for more information regarding income guidelines.  

Transfer Students - Verification of enrollment in an EOP, SEEK (Search for Education Elevation & Knowledge), CD (College Discovery), HEOP (Higher Education Opportunity Program), or another similar academic and financial support program at a previous school.
Priority is given to applicants from historically disadvantaged academic and financial backgrounds.
EOP offers limited financial assistance, and students should talk about their financial aid package with admissions and financial aid.
What are the Benefits?
Regularly scheduled meetings with tutors to assist students in their classes

A book stipend each semester

Academic support from regular meetings with Academic Advisor and EOP Counselor

A strong community of fellow EOP students to reach out to for support
Extra tutoring sessions and meetings may be scheduled to help students who are struggling academically.
The Summer Program
Admitted EOP students must attend a five-week summer program before the Fall semester begins. During this time, you will live on campus with a small group of other EOP students, attend classes, and participate in fun activities. Supporting staff will be there with you throughout the program, including EOP Coordinator, Nick Dorot, student mentors and student tutors.
The mentors reside in the dorms with you, and also participate in all the trips and activities. The tutors will meet you and your peers most week-nights to assist you in the English and Math courses that you will be participating in.
This program helps students become acclimated with Maritime before beginning the full academic year, as well as providing them with a strong network of support from staff and fellow EOP students before walking in the door - all of this preparation is essential to being a successful Maritime student.
Besides personal expenses such as traveling to and from the campus, the Summer Program will cost you nothing; EOP covers all dormitory costs, food, classes, and textbooks.
For more information about the program, contact:
Alex El Helou, Assistant Director of Admissions for Communications & Slate Administration 
718-409-3123
aelhelou@sunymaritime.edu