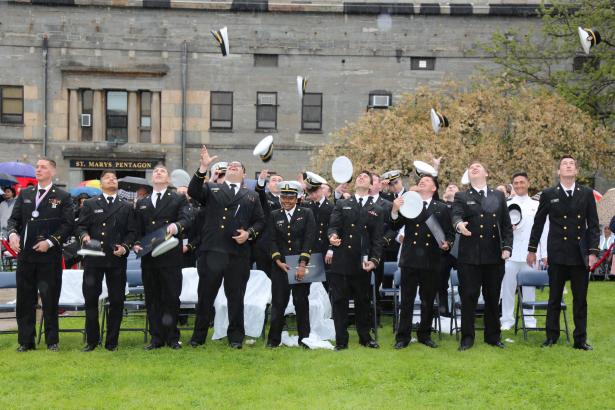 Commencement 2023
Consistent with contemporary practice at most institutions of higher education including the other State Maritime Academies and nearly all SUNY campuses, Maritime College will recognize and celebrate its graduates at one commencement ceremony annually in May. The multi-day event includes a senior picnic, senior toast, award ceremony and dinner, and concludes with the commencement ceremony.
January degree recipients are invited to participate in the May 2023 ceremonial activities. Transcripts of those individuals who completed their degree requirements in January will indicate a January graduation date.
Commencement
Commencement will take place on Friday, May 5, 2023.   
Thursday, May 4
1:00 PM - 3:00 PM: Senior Picnic (Quarters 1)
3:00 PM: Class Photo (Quarters 1)
4:00 PM: Senior Toast (Quarters 1)
6:30 PM: Senior Awards Dinner (by invitation only)
Friday, May 5
9:00 AM: NROTC Commissioning Ceremony
11:00 AM: Commencement (St. Marys Pentagon)