Summer Sea Term '21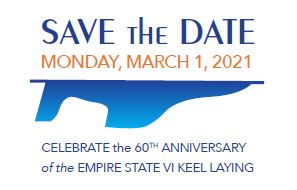 March 1, 2021 marks the 60th anniversary of the keel laying of the Empire State VI. Over the six decades the training ship has been at Fort Schuyler, thousands of students have experienced Summer Sea Term, allowing them to travel the globe and gain the essential hands-on experience required to propel them forward in the industry. As we near the end of TSES VI's tenure, we take the opportunity to celebrate her past service and final cruises. 
Due to the pandemic, SST 2020 was shortened to a 30-day Pier Side Training. Therefore, we face an unprecedented 134-day cruise this summer. For cadets working toward '21 and '22 graduation, the unexpected higher cost for a longer cruise presents real financial challenges.  
Join Captain Morgan McManus '92 and the SUNY Maritime community as we come together to raise essential scholarship funds for cadets in need. Follow us on social media and make your gift today through the DONATE NOW button.  
Thank you for your support! 
Celebrating the Admiral's Council
Leadership donors of $1,000, $5,000, $10,000 and higher make a crucial difference in the ability of Rear Admiral Alfultis to strengthen and advance the College. Contributors at these levels move the needle dramatically, and the Council celebrates and highlights their partnerships with the school.
Admiral's council leadership gift societies
$1,000 - 2,499 : Maritime Society
$2,500 - 4,999 : 1874 Society
$5,000 - 9,999 : Leadership Society
$10,000 - 24,999 : President's Circle Society
$ 25,000 - 49,999 : Empire State Society
$50,000 - 99,999 : Sallyport Society
$100,000 + : Heritage Society
Council members are publicly recognized and thanked in the College Annual Report, and are invited to special events including ship return and private gatherings with the Admiral.