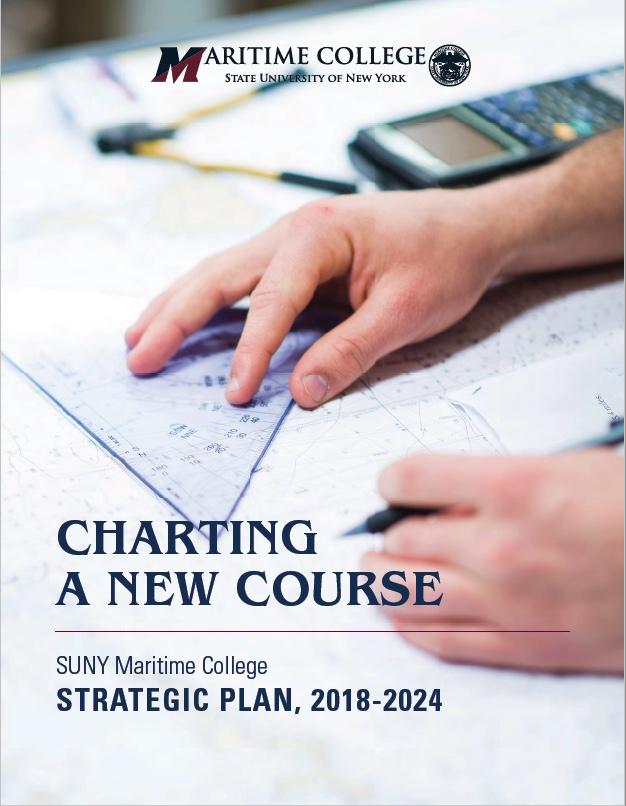 Strategic Planning
We proudly present Maritime College's strategic plan, Charting a New Course.
As we approach Maritime College's sesquicentennial in 2024, we are experiencing and anticipating rapid changes in technology, the environment, the regulatory picture, and increased globalization. Maritime College is evolving to meet these challenges, focusing on strengthening our rigorous academics, robust applied-learning opportunities, and leadership development program.
In an inclusive and robust strategic-planning process, faculty, staff, students, alumni, and industry leaders met over a period of 18 months to envision what Maritime College must and should become to meet the challenges of the future. Maritime is our mission but our reach is much broader. We have identified strategic goals and initiatives that will strengthen the college for our students, our industry, and our increasingly connected world.
"Charting a New Course" is centered around six goals and touches every aspect of who we are and who we want to become:
In the coming months and years, we will align our resources with this plan, implement new ideas and track our progress. In this way, we will ensure our students are prepared for professional success in marine transportation, the business of shipping, engineering, energy, facilities management, finance, the U.S. Armed Forces, and public service, as well as for future graduate studies. All are encouraged to find inspiration in these pages and join us in preparing this proud college for the next 150 years.
Additional information and resources are included in the plan's appendices: