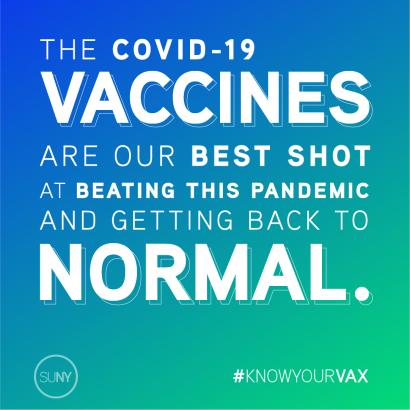 On May 10, the SUNY Chancellor issued an announcement that all SUNY students who will be attending campus in-person this fall must be vaccinated against COVID-19 before returning to campus.  It should be noted that the following steps would still need to happen for this vaccination mandate to take effect: The FDA would have to provide full approval of the vaccines, and the SUNY Board of Trustees would also have to vote to adopt the policy.
In his statement, the Chancellor indicated, "Over the past several weeks, we have been working with our SUNY community to develop the best plan to make sure we can return to full reopening in the fall and turn the page on COVID.  The State's new vaccination requirement – contingent with full FDA approval – would be another step in restoring normal campus activity this fall."
Maritime College is awaiting further guidance from SUNY on this vaccination mandate and other recent changes to CDC guidelines and recommendations.  We will share this information on the  COVID-19 Information web page.  Please continue to monitor that page for the most up-to-date information.
We appreciate the many faculty, staff and students who have received their COVID-19 vaccine and encourage those who have not been vaccinated to schedule an appointment.  As in the past year, our priority for the upcoming fall semester will focus on ensuring the health and safety of each Maritime College student, faculty and staff member.
Please join this community vaccination effort.