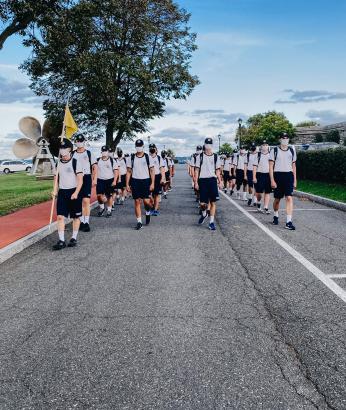 This week marks one year since the COVID-19 pandemic began affecting all aspects of campus life and learning.  In looking back at where Maritime College was a year ago, we had returned from Spring Break and just completed one week of in-person instruction. 
Abruptly, all campus activity came to an end, and students were instructed to move out of the dorms due to rapidly rising virus positivity rates throughout New York City and the Bronx.  These precautionary actions resulted in Maritime College being the first SUNY college to suspend in-person classes and close the campus to all outside visitors and non-essential staff.  Thanks to the efforts of our faculty, in one week, we pivoted to fully remote instruction.  The Spring Semester ended with remote final exams, a virtual commencement, and Maritime College faculty and staff hand-delivering diplomas to graduates in the local area.
As Summer Sea Term was no longer an option due to continued COVID concerns, our ship's crew worked in partnership with the Engineering and Marine Transportation Departments to safely bring more than 200 cadets back on campus for a highly successful 30-day Pier Side Training program.  As such, Maritime College was the first SUNY college to re-start on-campus operations.
Our students were welcomed back to campus on Labor Day weekend facing a new "normal" of COVID health and safety protocols.  Classroom capacity was reduced and the Mess Deck had a "new look."  Due to everyone's efforts and compliance with our protocols, we successfully completed 11 weeks of in-person, hybrid, and remote instruction, with a deliberate transition to remote instruction after Thanksgiving.  Throughout the fall, we administered almost 5,000 COVID-19 tests, with a positivity rate less than 0.5%. 
We resumed remote instruction on January 8, students returned to campus on January 18, and in-person instruction commenced on January 25.  Once again, Maritime College was one of the first SUNY campuses to resume on-campus operations.  Now as we near the end of the Spring Semester, I am very pleased knowing that we are on target to complete a full 12 weeks of in-person instruction.  During this time, we have tested over 8,800 students, faculty and staff, and are on track to administering more than 12,000 tests for the semester. 
I applaud the efforts of each of you for adhering to our COVID guidance and protocols throughout the past year.  We need to continue to remain focused and dedicated to achieving the goal of successfully completing the Spring Semester and shipping out for our first Summer Sea Term since 2019.
I know this year has not been easy, and the COVID pandemic has impacted many of you and your families.  While many of us found the past year challenging, our work as a college community has led us to a more hopeful outcome.   
My deepest thanks to each of you for your determination and tenacity.  I also want to thank our many donors whose generosity has helped our students during this economically challenging time.  Our journey together this past year has only strengthened our resolve as a community to overcome challenge.  It is in that spirit that we all continue to move ahead.
RADM Michael Alfultis, USMS, Ph.D.
President