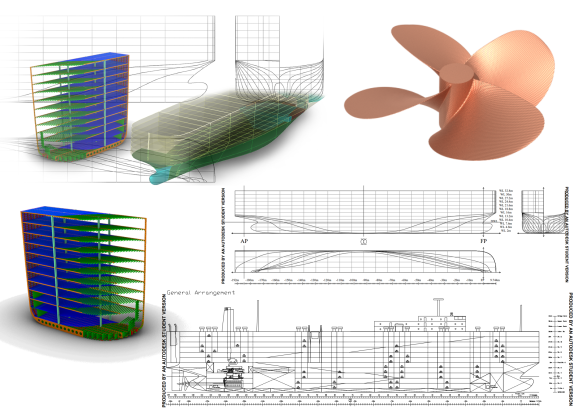 Each year, students in the Maritime College Naval Architecture program are challenged with designing theoretical yet practical cutting-edge vessels. Upon completing their projects, the designs are entered into the Dr. James A. Lisnyk Student Ship Design Competition of the Society of Naval Architects and Marine Engineers. . The competition is open to the world's colleges and universities supporting maritime careers.
This year, a group of five Maritime College students, Brandon Hyner, Tyler James, Elizabeth Millicker, Samuel Perez and Arina Suprunova, were awarded the first place prize. The group's first place win was also a first for the College.
Working collaboratively, the group designed an energy-efficient Roll-on, Roll-off, Pure Car Carrier (PCC or RORO). Although this type of vessel is challenging to design due to its poor stability, each member presented their unique perspective throughout the design process and offered diverse skills and experience to the team. "We decided to design a RORO because we wanted to stand out. We had to balance innovation and maintain industry standards. We also had to make sure the vessel was practical, abided by the rules and regulations set forth by different maritime organizations, and stood out due to its ingenuity," noted Arina Suprunova. The design was created through trial and error, extensive research, and a collective team effort.
The aspiring naval architects shared their excitement as first place winners of the competition. "It felt surreal to win first place. It was amazing to see that the countless hours of work, stress, and effort did not go unnoticed in this competition," stated Elizabeth Millicker. Suprunova added, "We could not have achieved this success without the help of the engineering department, especially Professor Charlie Munsch, Dr. Richard Burke, Professor George Petrie and Professor David Gerr." The team hopes their historical win inspires future naval architecture students at Maritime to earn multiple podium spots.
Learn more about the Dr. James A. Lisnyk Student Ship Design Competition here.