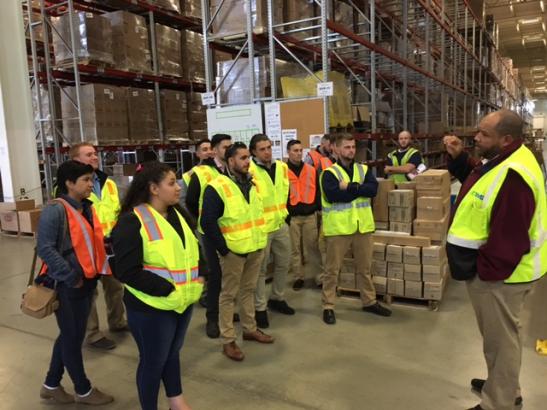 SUNY Maritime students have been able to explore intermodal facilities and operations across the country, thanks to a three-year grant from the Intermodal Association of North America.
Intermodal shipping is a more advanced form of container shipping, where freight is moved between air, rail, roads and waterways without being directly handled. Huge facilities specially designed to move containers between ships, trains, planes and trucks are being built or expanded near ports and terminals around the world, and demand is growing for professionals able to monitor and manage the facilities and the cargo.
"The effort behind these trips is to introduce students to different options they may want to consider in shore-side shipping activities," said Chris Clott, Maritime's ABS Chair of Marine Transportation and Logistics whose background is in intermodal shipping. "There is a huge interest within the logistics community in jobs connected to intermodal shipping. There is going to be a large wave of retirements in the current workforce and technology is advancing, so there are more opportunities than ever before."
So far this semester, students in the college's International Transportation and Trade bachelor's degree program and the International Transportation Management graduate program have explored Chicago's CN Railroad Intermodal Ramp, a Maersk subsidiary distribution center (DAMCO) and Center Point, the largest intermodal facility in North America. They also participated in a case-study competition at the Intermodal Expo and visited the ports of Los Angeles and Long Beach, California.
Later this semester, a dozen students will participate in training on the NAVIS operating system. Used to handle the logistics of moving cargo, the software is used by 30 percent of ports and terminals in the world. The three-day training session will make students more competitive in the job market after they graduate, according to Clott.
The grant also funded scholarships for eight students who expressed, in an essay, their interest in pursuing careers in intermodal shipping.
Though many Maritime students go on to work in logistics at ports and terminals, this is the first concerted effort to introduce them to intermodal shipping.
"The goal is to look at different ports and operations software our students can utilize as we seek to show them these different opportunities" Clott said. "Students knew very little about intermodal before these visits and can understand the complexities associated with this growing field.