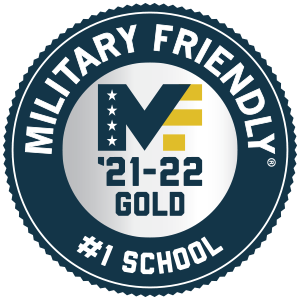 Maritime College has earned the top rank in the 2021-2022 Military Friendly​® ​School designation.
Military Friendly® is the standard that measures an organization's commitment, effort and success in creating sustainable and meaningful benefit for the military community. The Military Friendly® designation creates better outcomes for veterans. By setting a standard then promoting it, the designation provides positive reinforcement for American organizations to invest in programs that improve the lives of veterans.
The Military Friendly® Schools survey is the longest-running, most comprehensive review of college and university investments in serving military and veteran students. Over 1,200 schools participated in the 2021-2022 survey with 747 earning the designation. Methodology, criteria, and weightings were determined by Viqtory with input from the Military Friendly​®Advisory Council of independent leaders in the higher education and military recruitment community. They measured the institution's ability to meet thresholds for Student Retention, Graduation, Job Placement, Loan Repayment, Persistence (Degree Advancement or Transfer) and Loan Default rates for all students and, specifically, for student veterans.
Learn more about how Maritime College received the #1 Rank of 2021-2022 Military Friendly​® ​School.