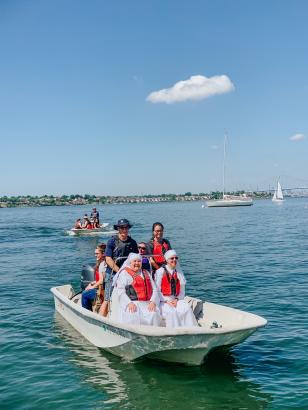 New York City and local Bronx residents will once again have the opportunity to celebrate Long Island Sound and all it has to offer at Maritime College in summer 2021, thanks to a grant awarded by the  Long Island Sound Futures Fund (LISFF).
Considered a natural treasure, the Long Island Sound is a critical economic, recreational and environmental resource. Nine million people who live, work and play in the watershed; however, residents of the Bronx and Queens are more disconnected from the Sound than their counterparts in Connecticut, Long Island and Westchester.
The Maritime College Waterfront developed a program to connect local communities with the water and provided educational, recreational and stewardship activities for residents to learn more about the Sound and how to become actively involved in its conservation. In 2019, the waterfront hosted the very first Boogie Down to the Sound event, drawing a diverse group of 1,000 local community members, including many who never had the opportunity to kayak or boat. The success of the event did not go unnoticed as LISFF awarded the Maritime College Waterfront a grant to continue their educational efforts to the community and host the second annual Boogie Down to the Sound. "We are thrilled to receive this grant again and build on the success from the previous Boogie Down to the Sound event. It is also a great opportunity for Maritime College to share with local residents the programs we offer to the community," stated Waterfront Director Rob Crafa.
The event, planned for summer 2021 (COVID dependent), offers opportunities for families to participate in hands-on stewardship activities such as shoreline cleanup and oyster gardening, marine science exploration or sailing, kayaking or powerboating with experienced staff.
Learn more about the Maritime College Waterfront and its community programs here.