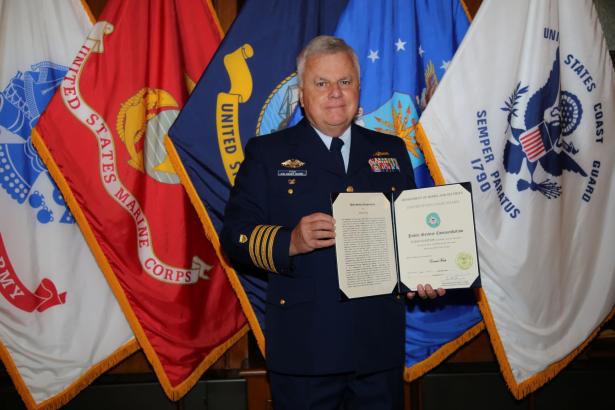 Captain Ernest J. Fink, Dean of the School of Maritime Education and Training, was awarded a Public Service Commendation from the United States Coast Guard on September 15, 2020.
The prestigious award, which may be issued to any member of the public, was awarded to Capt. Fink, a member of the Merchant Marine Personnel Advisory Committee (MERPAC) in recognition of his service. Capt. Fink, a member of MERPAC since 2016, provided expertise and offered recommendations related to the training qualifications, certification, documentation and fitness standards of merchant marine personnel.
Although his appointment with the Committee was due to expire in January 2019, Capt. Fink chose to extend his tenure and ensure the continuation of the Committee's work. Serving as chair on the subcommittees for course approval requirements and communication, his knowledge and proficiency as a representative of state maritime academies, resulted in offering recommendations that assisted the Coast Guard in its efforts to improve the quality of the Merchant Mariner Credentialing program, its policies and forms. "I am honored to receive this award, and fortunate for the opportunity to provide a service and perspective that benefits the Coast Guard and the state maritime academies," stated Capt. Fink.
MERPAC was originally formed in 1992, consists of 19 members and acts solely in an advisory capacity to the Secretary of Homeland Security though the Commandant of the Coast Guard on matters relating to personnel in the U.S. Merchant Marine. Capt. Fink, one of six marine educators on the Committee, represents the state maritime academies.