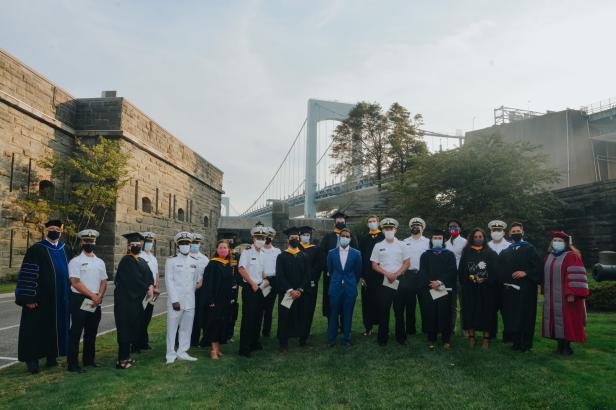 Friday, September 25, 2020, was a day that will long be remembered by many. The late summer sun shone brilliantly over Fort Schuyler, faculty were ready in their regalia, students lined up for their Commencement ceremonies, and parents could not be more elated to attend the first in-person Commencement since the pandemic halted on-campus activities.
Three ceremonies, one for each of the new schools (Engineering, Maritime Education and Training, and Business, Science, and Humanities), allowed the 62 graduates and their guests to gather more intimately and celebrate safely in compliance with federal requirements. As part of the socially distant event, masks were required for all students, guests, faculty, and staff.
Class Valedictorian Gabriella Franco spoke on the importance of taking risks, "The idea of doubt in regards to the future is more prevalent now than ever before. But we must always keep in mind that our goals, dreams, and visions are worth the risk." Franco encouraged the Class of 2020 to step outside of their comfort zones while maintaining loyalty and valor to achieve their goals.
President Michael Alfultis awarded Captain Ronald C. Rasmus, Maritime College Class of 1960, with the degree of Doctor of Humane Letters, honoris causa. With a career spanning six decades in the maritime industry, culminating as President and CEO of the Great Lakes Towing Company. A highly engaged and active alumnus, Captain Rasmus holds an extraordinary devotion to his alma mater and its alumni. He addressed the Class of 2020 virtually aboard the Great Lakes Towing Company's Tug Wisconsin in Cleveland, Ohio, and acknowledged the challenges graduates will face in the future, "I believe that your college education will enable you to face these challenges and prevail. If you could make it here, and you did, you'll make it anywhere." Captain Rasmus urged graduates to use their skills and perseverance to pursue their careers. "Class of 2020 make us proud!" he exclaimed.
President Alfultis also offered his advice for the graduates: "Your time and accomplishments at Fort Schuyler are just the beginning of what's to become a voyage with many stops at many ports along the way. To reach each port, you must set your sails, catch the wind and steer a course. There will be storms, troubled waters, and hazards along the way, but you must not allow these to steer you off course. Dream big, and don't let anything get in the way of those dreams."
After being awarded their degrees by Provost Waters, each of the 62 graduates from May, July and September walked the stage to the cheers of their proud family members, friends, and professors.
Fall Commencement, the first in-person event to take place at the College since the onset of the pandemic, was a great success. Students had the opportunity to celebrate their achievements, parents were happy to be witnesses to the important event, and Maritime College was once again pleased to host the celebration in person and on campus.
Congratulations to the Class of 2020!
View photos from Fall Commencement here.