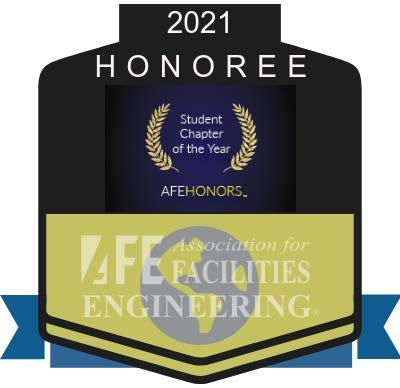 On November 2, the Association for Facilities Engineering (AFE) announced that the SUNY Maritime AFE Student Chapter was selected as Student Chapter of the Year. AFE is an organization originally focused on Plant Engineering.  Formerly known as the Plant Engineers Club and organized in the Boston area when it originated in 1915, AFE has evolved over the years as it joined forces with the American Institute of Plant Engineers in 1954.  AIPE grew to become a national organization that continued to be a dominant force in both Plant Operations and Engineering and eventually in Facilities.
The student chapter was revived five years ago and has managed to stay active through the pandemic, hosting a ZOOM meeting in the fall. In October, the students hosted a LI Chapter 4 and NYC Chapter 8 Meeting on campus that included an excellent presentation from Ms. Kami Yarbrough. The students run this Chapter along with the President of the student Chapter, Matthew Tom 1/C and Vice President, Dominic Ruocco 1/C.
The Award reads as follows:
The AFE Student Chapter of the Year Award recognizes the AFE Student Chapter that, over the previous twelve months, has shown the most significant advances with regard to:
Membership Growth – Honoree demonstrated consistent membership growth.
Membership Retention – Honoree served as a model for membership retention.
Average GPA – Honoree demonstrated leadership in promoting academic achievement by maintaining a high average GPA calculated by averaging the GPAs of each chapter member.
Community Service – Honoree demonstrated leadership by addressing needs in the surrounding community through volunteerism.
Membership Engagement – Honoree modeled robust membership engagement by organizing / hosting meetings, events, professional development activities or an annual AFE Day.
Representative Participation in AFE Events and Initiatives – Honoree demonstrated leadership by ensuring chapter representation at national AFE events and participation in national AFE initiatives.
Congratulations to the all the members of the Maritime College AFE Student Chapter!