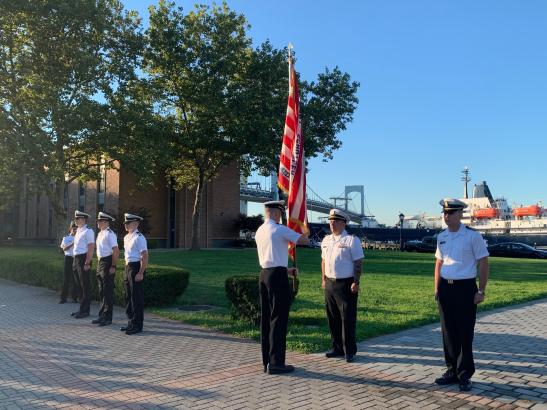 For the first time since 2019, the Change of Command Ceremony took place during morning formation on September 1.
The ceremony, conducted before the assembled Regiment, is a time-honored tradition that formally symbolizes the continuity of authority as the command is passed from one individual to another. As traditionally practiced, the change of command is unique in the world today. It is a transfer of total responsibility, authority, and accountability, from one individual to another signified by the passing of the Regimental colors (flag) from the outgoing Chief Cadet Officer (head of cadets on training ship) to the incoming Regimental Commander (head of cadets on land).  
During the ceremony, Chief Cadet Officer Cadet Richard Ferris transferred command to Regimental Commander Richard Rowell. Deputy Regimental Commander Merritt Whiddon carried the flag from the Color Guard and retrieved it from the Regimental Commander. The Color Guard was commanded by Cadet Julien O'Neill.