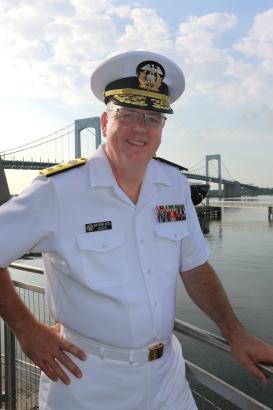 After more than 40 years of public service including more than 30 years in higher education, and nearly a decade of serving as President of SUNY Maritime College, RADM Michael Alfultis announced his intent to retire in July 2024 during his August 31, Convocation speech.
When RADM Alfultis was appointed Maritime College President in 2014, he immediately focused on two priorities for the College: the replacement of the training ship Empire State; and the formal reconciliation with the Fort Schuyler Maritime Alumni Association. Within three years, a formal SUNY-approved Memorandum of Agreement was signed between Maritime College and the Maritime College Alumni Association. This resulted in increased alumni engagement and increased alumni support for students. In conjunction with this effort to re-establish the College's relationship with its Alumni Association, the Maritime College Foundation was formally established, resulting in significant increases in both the number of donors supporting the College as well as the size of gifts from individual donors.
The Admiral's second priority of acquiring a new training ship will be realized in a few weeks' time when the Empire State VII is expected to be delivered to the College. This long-awaited project involved years of conceptualizing, discussing, planning, letter writing, advocacy and testifying before U.S. Congress on the part of RADM Alfultis and many partners: alumni, students, parents, maritime industry partners, state maritime academies, Maritime Administration, elected officials, and other stakeholders. A unique shared effort contributed to the construction of the first U.S. training ship that will be utilized for generations of students to come. "I am deeply grateful for their dedication in seeing this lengthy project through to its fulfillment," stated RADM Alfultis, "and I am thrilled for all the students and faculty who will enjoy a new learning experience aboard the very first, technologically advanced purpose-built training vessel."
Throughout his tenure as President, RADM Alfultis collaborated closely with visionary faculty and staff to develop a Strategic Plan that complemented the Mission, Vision and Core Values of Maritime College. The Plan proved to be instrumental in the College's successful Middle States Accreditation. The success of the Admiral's partnership with faculty and staff has also led to the transformation of the Maritime College campus through capital improvement projects, significant increase in philanthropic contributions, and enabled the development of offshore wind and sustainability initiatives. 
He has regarded his work with the Maritime College community to improve campus climate, diversity, equity and inclusion as an issue of great personal importance, and through this vital effort, the President's Council on Campus Climate and Culture was formed and continues to work toward accomplishing its stated vision: "Maritime College is a healthy, safe, and inclusive environment, on campus and at sea, where everyone is respected and valued." 
As Maritime College begins to celebrate its Sesquicentennial, RADM Alfultis recognizes there is still much work to be done to position the College for success in the future. He intends to continue working alongside faculty, staff and students to address the challenges that lie ahead and identify new opportunities. "My motto in the coming year will be Full Speed Ahead!" he stated.
When RADM Alfultis retires in 2024, he will leave behind a legacy of success and excellence, having accomplished much more than the two priorities he first envisioned in 2014. The impact of his numerous achievements as President of SUNY Maritime College will set students on a path of academic and professional success in the maritime industry and beyond for generations to come.