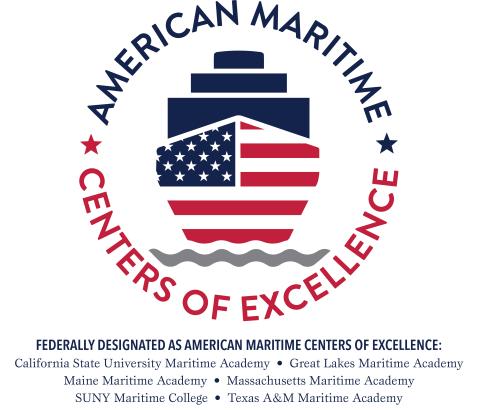 The American Maritime Centers of Excellence (federally designated in January 2021) proudly recognize National Maritime Day, May 22, 2021, a day in which celebrations are held throughout the country to honor the maritime industry – an anchor in the global transportation of goods and services.
This year's theme, America's Maritime Workforce: Connecting the Nation and the World, is fitting as the American Maritime Centers of Excellence collectively provide a quality education and train thousands of students to serve as world-class mariners, engineers, supply chain managers, logistic professionals, scientists, and public servants.  Young men and women who graduate from any of the six maritime academies – California State University Maritime Academy, Maine Maritime Academy, Massachusetts Maritime Academy, Great Lakes Maritime Academy, SUNY Maritime College, and Texas A&M Maritime Academy – become dynamic leaders for the global marine transportation industry and contribute to the economic and national security of the U.S.  They also serve as officers in the nation's intermodal transportation system, U.S. merchant marine, and U.S. Armed Forces.   
The American Maritime Centers of Excellence generate an American workforce like no other – impacting all parts of the globe – and is key to connecting the nation and the world.  Each state maritime academy awaits the arrival of its own newly constructed national security multi-mission vessel (NSMV), a state-of-the-art training ship designed to support merchant mariner education and assist with humanitarian/disaster relief.  The delivery of NSMVs to each of the state maritime academies will further enhance student training and better prepare the generations of merchant mariners to come.
For centuries, the maritime industry has played a critical role in sustaining the global economy through international trade.  On this National Maritime Day, we salute American merchant mariners and all others in the American maritime industry whose efforts have ensured that our nation remains connected to the world. 
About California State University Maritime Academy:
Cal Maritime, a campus of The California State University, is one of only seven degree-granting maritime academies in the United States, and the only one on the West Coast. Tucked away on scenic Morrow Cove in Vallejo, Calif., Cal Maritime offers students four-year degrees in business administration, facilities engineering technology, global studies and maritime affairs, marine engineering technology, marine transportation, and mechanical engineering, preparing them for the evolving global economy.
About Maine Maritime Academy:
Maine Maritime Academy is a public, co-educational college located in the coastal town of Castine, Maine. MMA students benefit from hands-on education, international sea-time aboard the Training Ship State of Maine or the Schooner Bowdoin, cadet shipping aboard commercial vessels, and cooperative education assignments. Students become world-class mariners and engineers, supply chain managers, logistics professionals, and scientists in Maine and beyond.
About Massachusetts Maritime Academy:
Massachusetts Maritime Academy provides a quality education for graduates serving in the merchant marine, the military services, and those who serve the interests of the Commonwealth, Nation and global marketplace. The Academy does so by combining a rigorous academic program with a regimented lifestyle that instills honor, responsibility, discipline, and leadership.
About Great Lakes Maritime Academy:
The Great Lakes Maritime Academy prepares students for the challenge of operating commercial ships of unlimited tonnage with a particular emphasis on the needs of the Great Lakes industry, where ships can stretch to one thousand feet in length. Our deck cadets graduate with a Coast Guard license endorsed for service as a mate on the oceans, and first-class pilotage on the Great Lakes. Our engineers graduate with an unlimited horsepower license, endorsed for service on steam and diesel vessels.  
About SUNY Maritime College:
SUNY Maritime College educates dynamic leaders for the global marine transportation industry, shipping business, engineering, energy, facilities management, finance, the armed forces and public service. Students choose from 11 undergraduate majors, including five ABET-accredited engineering programs, and two master's degree programs. Students participate in 17 varsity athletic teams and more than 40 clubs and organizations, ROTC options and U.S. Coast Guard license programs. The license program prepares students to navigate, power and operate marine vessels.
About Texas A&M Maritime Academy:
The Texas A&M Maritime Academy trains over 400 cadets annually for maritime service and employment around the world. The Academy is ideally located in Galveston, Texas on the Gulf Coast where it is surrounded by industry, environment and programs essential to fulfilling its special purpose mission. The Academy is part of Texas A&M University at Galveston, an ocean-oriented branch campus of Texas A&M University which educates nearly 2,300 undergraduate and graduate students in a unique blend of marine and maritime programs.