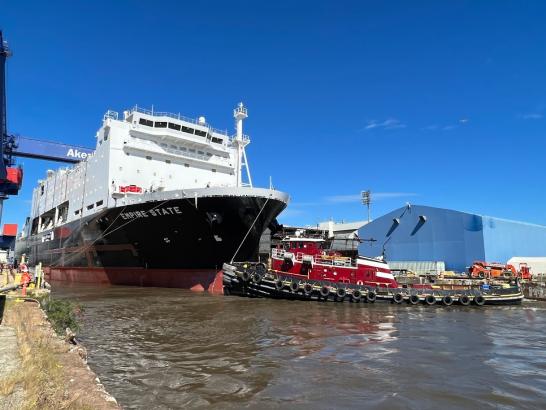 On Saturday, September 24, the long-anticipated moment arrived when the newly-constructed Training Ship Empire State VII was launched at Philadelphia Shipyard.
Under beautiful blue skies, the new training ship was gently guided into its new berth by McAllister Towing tugs. RADM Michael Alfultis was on hand to witness the launch saying, "Today is a significant milestone in the construction of the training ship, and I'm proud to be here on behalf of Maritime College. Knowing that Philly Shipyard and McAllister Towing took great care in moving the vessel in preparation for its outfitting shows the strength and collaboration of the industry partners involved in this important effort."
The ship will be outfitted and undergo testing and commissioning, and dockside trials. Within the ship's design will include numerous training spaces (eight classrooms), a full training bridge, lab spaces, and an auditorium that can accommodate up to 600 cadets at sea. 
Arrival of the state-of-the-art Empire State VII at Maritime College is expected in Spring 2023.