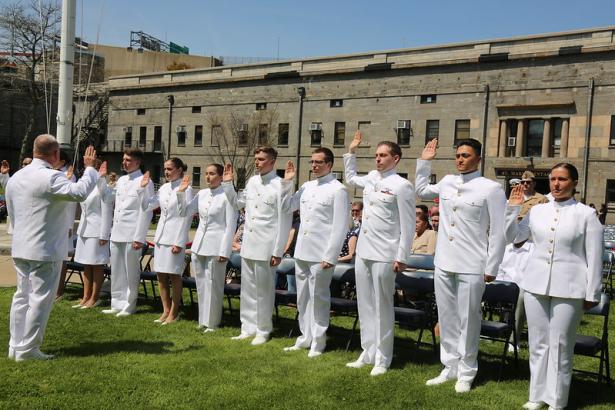 As part of the 2022 Commencement activities, the May 5 NROTC Commissioning Ceremony was held with 11 Ensigns commissioned as Officers to serve in the U.S. Navy and Navy Reserve.
Maritime College Congratulates:
Eric W. Alexander, Electrical Engineering
Manuel G. Costales, International Transportation & Trade
Meghan K. Eagleton, Marine Transportation
Emily G. Heins, Marine Engineering
John. T. Lange, Naval Architecture
Autumn-Sky H. Mandaglio, Facilities Engineering
Dainel M. Mincieli, Mechanical Engineering
Thomas J. Pudelek, Marine Engineering
Payton Smith, Naval Architecture
Eric H. Wenig, Marine Transportation
Claudia S. Zeiba, Marine Transportation
Thank you for choosing to serve your country!  
View the NROTC Commissioning Ceremony photos here.