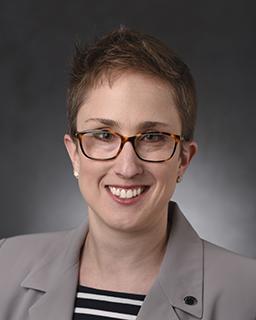 Maritime College is pleased to announce the appointment of Dr. Leigh Winfrey as the Dean of the School of Engineering.
Dr. Winfrey has served as Chair for Undergraduate Studies in the Ken and Mary Alice Lindquist Department of Nuclear Engineering at Pennsylvania State University since 2019. She earned a Ph.D. in Mechanical Engineering and M.S. in Physics, both with minors in Nuclear Engineering, from North Carolina State University, and a B.S. in Physics and B.A. in Chemistry and Mathematics from the University of North Carolina at Charlotte.
As the inaugural Chair for Undergraduate Studies, Dr. Winfrey was responsible for developing, deploying, and managing polices and processes related to the undergraduate program, advising, curriculum management, and undergraduate recruitment; she also developed the department's ABET polices, processes, and procedures, and led colleagues and stakeholders through the continuous improvement process and an ABET review. Dr. Winfrey has served in a variety of administrative and service roles since 2011, including Graduate Program Coordinator in the Nuclear Engineering Program at the University of Florida, and Education Program Coordinator for the US Department of Energy's Consortium for Advanced Simulation of Light Water Reactors (CASL).
In addition to her administrative work, Dr. Winfrey has served as research advisor for over 20 graduate and 40 undergraduate students and has developed a robust research program that focuses on fusion energy technology development and plasma-material interactions. Her work has produced over 80 peer review publications, proceedings, and presentations, and numerous invitations to speak at conferences, universities, labs, and companies around the world. Dr. Winfrey also serves as Editor for Fusion Science and Technology, a leading source of information on peaceful uses of fusion research.
Building a program from the ground up has allowed Dr. Winfrey to develop consensus among colleagues, advocate across a university, forge new relationships, and develop a recruitment strategy focused on inclusion and access. "I greatly look forward to being a leader who is bold in strategy, generous in partnership, passionate in advocacy, attentive to elevating others, and an example of the Core Values of SUNY Maritime College," said Dr. Winfrey.
Dr. Winfrey will begin in her new role as Dean of the School of Engineering on August 8, 2022.
The faculty staff and students of Maritime College congratulate Dean Winfrey and wish her much success in her new role