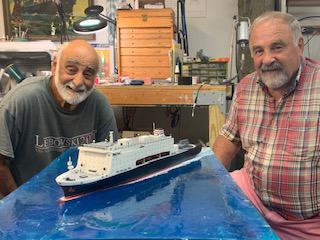 Greg Gutchigian, '70 builds model ships of all shapes and sizes, but in his workshop, he is most proud of his replica of the new training vessel, which he plans to present as a gift to Maritime College. 
Gutchigian along with fellow classmate Robert Gaunt, '70 have worked together to create a 25-inch model of the new National Security Multi-Mission Vessel (NSMV). The NSMV is currently under construction in Philadelphia Shipyard and slated for delivery to Maritime College in 2023. Gutchigian's model is built based on artist renderings and basic line drawings. 
Gutchigian graduated as a deck officer and Gaunt as an engineering officer in marine transportation. Gutchigian went on to serve as ensign in the Naval Reserve and ran passenger ferries from Cape Cod to Nantucket, sparking an interest in building model boats from scratch. The two classmates hope to have the model exhibited in the Maritime Industry Museum at Fort Schuyler. 
Read the full story in The Sand Paper.net (Photo: The Sand Paper).