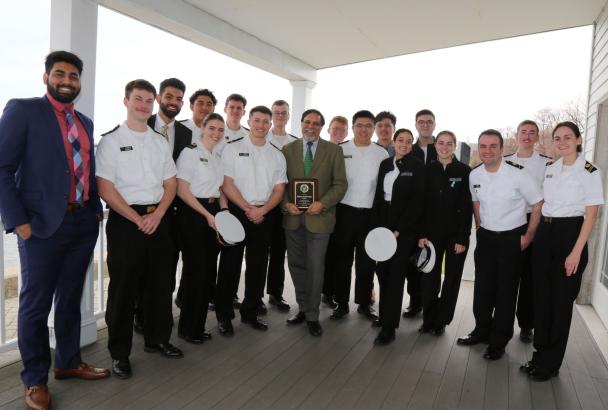 For the first time in three years, seniors in the Facilities Engineering degree program presented their Facilities Engineering Design II Capstone projects before an audience of almost two dozen industry professionals who served as evaluators. Five teams comprised of three students conducted their presentations, proposed their findings and recommendations, and responded to questions from members of the audience. Industry professionals representing companies such as LaGuardia Airport, Turner Construction, NBC Universal, Fresh Meadows Mechanical, and Yale New Haven Health, among others, were on hand to question, offer advice and evaluate the presentations. 
Capstone projects allow students to apply their cumulate engineering education to a real-life dilemma. Projects are solicited from various engineering firms, operating facilities and/or equipment manufacturers and contractors operating within the New York tristate area. This spring, five presentations were held in person and featured students speaking on the following topics within their respective firms:
Armstrong Humidifier Repair/Replace Options – Memorial Sloan Kettering Cancer Center, Nassau

AHU Upgrade/Renewal/Replacement – Mount Sinai, Annenberg

Level II Energy Audit with ECM's – New York City Police Department, 43rd Precinct, Bronx

Hybrid Chiller Plan Upgrade Planning & Actions – Northwell Health, Syosset

Ex Vivarium-Energy Reuse & Systems Modifications – Memorial Sloan Kettering Cancer Center, Long Island City
The capstone project provides an outstanding experience through participation, project significance and urgency, and active critique by attendees at oral presentations.