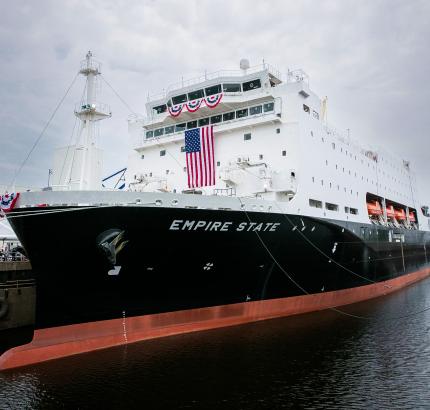 In a first for the State and City of New York, and the borough of the Bronx, a new purpose-built training ship, the Empire State VII, will arrive at Olivet Pier, Maritime College on Monday, September 18, 10:30 a.m. accompanied by a parade of ships.
Tours of the ship will be available for elected officials, VIPS and members of the press after the Arrival and Delivery Ceremony onboard the ship on Friday, September 22, 9:00 a.m. Members of the press must RSVP.
Built in the U.S. and designated for each of America's state maritime academies, the Empire State is the first of five National Security Multi-Mission Vessels (NSMV). It is a world-class training ship and instructional platform designed to serve a dual purpose: supporting merchant mariner education and assisting with humanitarian/disaster relief during times of national emergency. The ship's arrival is a milestone event for the nation, maritime industry, New York, and SUNY Maritime College.
Conceptualization, construction and arrival of the Empire State VII is a historic achievement made possible with the help of elected officials, maritime industry partners, stakeholders and alumni who supported the efforts of SUNY Maritime College President RADM Michael Alfultis as he traveled to Washington, D.C. over several years to speak with Congressional members. "This is an exciting day for Maritime College as we welcome the Empire State VII to its home port," said RADM Alfultis. "This state-of-the-art training ship will provide our cadets the most advanced technology in the shipping and maritime industry, and ensure they are prepared to operate and maintain vessels as licensed deck officers and engineers. We appreciate the National Security Multi-Mission Vessel Program's bipartisan support of the state maritime academies. We also appreciate the support of New York Governor Kathy Hochul and SUNY Chancellor John B. King."
Fabrication of the Empire State VII began with steel-cutting in 2021 followed by the laying of the ship's keel in 2022. The new training ship features numerous instructional spaces, a full training bridge, and accommodations for up to 600 cadets to train in a first-rate maritime academic environment at sea.
In addition to being a state-of -the-art training and educational platform, the Empire State VII features a modern hospital facility, a helicopter pad, and the ability to accommodate up to 1,000 people in times of humanitarian need. Adding to its capability, the ship will provide needed roll-on/roll-off and container storage capacity for use during disaster relief missions.
Vessel specifications:
Length: 159.85 m

Breadth: 27.00 m

Draft, scantling: 7.50 m

Total berthing: 760 people

Speed: 18 kts

Deadweight: 8,487 MT
View press release