We are still accepting Enrollment Deposits
Congratulations and Welcome to SUNY Maritime College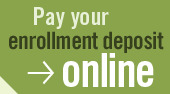 Fall 2023 Accepted Students: You can formally accept your offer of admission by submitting your $100 deposit online.
Please send by email, fax, or mail:
Email: admissions@sunymaritime.edu
Fax: 718-409-7465
Postal Mail:
SUNY Maritime College
Office of Admissions
6 Pennyfield Ave.
Throggs Neck, NY 10465
Freshman Student Checklist - Fall 2023
Submit your $100 deposit along with your Statement of Intention Form.

Your login information to submit your enrollment deposit is your Maritime ID number (ex. M0012345) and your PIN is your 6-digit date of birth (MMDDYY).

Complete and submit your 2023-2024 FAFSA  (School Code: 002853).

Access "My Maritime" E-mail - (Please allow 2 business days from when you submitted your enrollment deposit to complete this process; you will receive a confirmation e-mail with details).

An e-mail will be sent to the e-mail address you provided on your application confirming receipt of your enrollment deposit. This message will include all details related to accessing your Maritime E-Mail.

Your username will be your first name, the first three letters of your last name, followed by a period and your incoming year. So if your name is John Smith and you first enrolled in 2023, your username will be johnsmi.23. If you are a deferred applicant, your username will remain the same, use the year you originally applied for.

To access your password, please go to SUNY Maritime College's Team Dynamix site to email servicedesk@sunymaritime.edu, or call us at 718-409-6917. Once you receive your temporary password, you will be forced to reset your password by following these steps. (Please note: for security purposes, passwords will only be given to the students. For this reason, parents/guardians will not be able to obtain the password on behalf of their student). 

Access Maritime Self-Service - Please allow 2 business days from when you submitted your enrollment deposit to complete this process.

You can only access Maritime Self-Service after you have established your Maritime E-mail account.

You will accept your Financial Aid via Maritime Self-Service.

Billing information will also become available via Maritime Self-Service at the appropriate time prior to the start of each semester.

January 15, 2023 - Applicants accepted via Early Decision must submit their Enrollment Deposit and Statement of Intention.

May 15, 2023 - Regimental students: Submit your application for your Transportation Worker Identification Card - TWIC (domestic regimental students only), apply for US Passport (or apply for renewal if you are a current US Passport holder and your current passport expires before October 2024).

June 1, 2023 - Submit Enrollment Deposit for Regular Decision Applicants and Statement of Intention.

June 5, 2023 - Submit the following:

June 8-11, 2023 - Online placement testing

July 10, 11, or 12, 2023 - Attend Orientation Part 1 (One Day Only - Virtual).

July 13, 2023 - Attend Parent & Family Orientation (Virtual).

July 17, 2023 - Submit:

Official college transcript(s).

Final high school transcript(s).

AP Score reports, and/or IB.

August 7, 2023 - Confirm payment of full college bill (Understanding Your Bill), including final uniform payment, completion of optional health insurance waiver, and set up Student ID Card (upload photo instructions located here).

August 23, 2023 - Indoctrination.

August 31, 2023 - Move-in day (Civilian Students).

September 5, 2023 - First day of classes.

Check out our Academic Calendar.