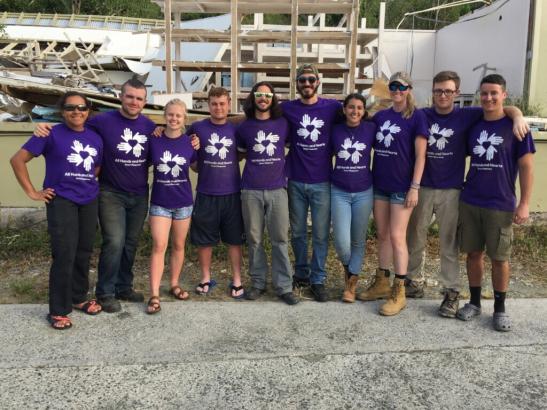 For six weeks this summer, teams of SUNY Maritime College students will work in the U.S. Virgin Islands to assist with ongoing hurricane recovery efforts.
Three groups of 10 students will each spend two weeks on St. John, working with All Hands and Hearts, a volunteer-based disaster-relief organization. The groups are part of a statewide effort to encourage students from the State University of New York and City University of New York systems to assist in the ongoing recovery efforts in the Caribbean.
"Professor Chris McMillan and I have been working on organizing a volunteer effort since the fall," said Austin Ford, a sophomore Marine Transportation major from Maryland, and president of the Humans Helping Humans Club, a service-focused organization at Maritime. "After hearing about the motivation to volunteer from students at Maritime, the All Hands and Hearts organization decided to pay for all expenses for our student volunteers, including round-trip transportation."
Last fall's unusually active Atlantic hurricane season devastated Puerto Rico, the U.S. Virgin Islands and other islands in the Caribbean. Recovery efforts from hurricanes Irma and Maria are ongoing across the region as the 2018 Atlantic hurricane season, which officially begins June1, looms.
During the service project, Maritime students will remove debris, and strip and sanitize homes to remove mold and other health hazards.
"It's more than just being a tourist or vacationer. I'm getting to see to an exotic island for the first time but, I'm also able to help rebuild it and make it as beautiful as it once was," said John Accetta, a senior Maritime Studies major from Seaford, New York. "I know that a lot of people are very hurt, they've been damaged down there – it's incredible damage. Houses are gone, schools are gone. I'm looking forward to cleaning up what's left from Irma and Maria and just being able to make a change."
The Maritime effort in the Virgin Islands this summer is one the college's Caribbean-based summer service projects. During their three-day visit to San Juan on the training ship Empire State VI, Maritime students will remove debris and restore agricultural crops in Puerto Rico.
The college's ship, owned by the U.S. Department of Transportation's Maritime Administration, was sent to Puerto Rico this fall to assist with disaster recovery and to house disaster-relief workers. No students were sent with the ship for that effort. Ever since then, the college's administration and McMillan have been working with volunteer organizations to send Maritime students to the Caribbean to help the recovery effort.
"Since the Empire State and its crew returned from Puerto Rico after Hurricane Maria, SUNY Maritime's students and faculty have been committed to returning to help the Caribbean recovery," said Rear Adm. Michael Alfultis, president of SUNY Maritime College and co-chair of the SUNY Puerto Rico Task Force, which was established in October facilitate and coordinate SUNY's efforts to assist the recovery in Puerto Rico. "Our students and Professor McMillan have worked diligently to make this separate trip to the U.S. Virgin Islands a reality. Their dedication and focus on working to help with recovery efforts is a testament to their integrity and their commitment to service."