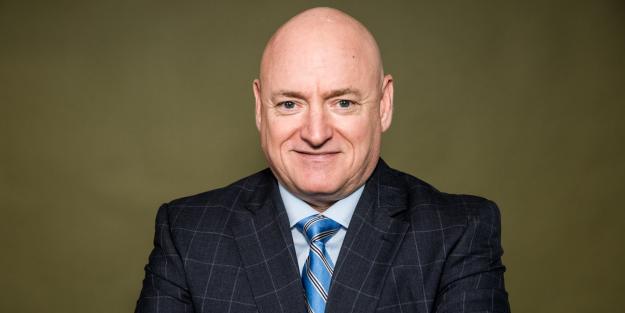 World-famous astronaut, engineer and author Capt. Scott Kelly '87 returned to SUNY Maritime College to discuss his first book, "Endurance," with members of the freshman class on Tuesday, November 6.
His visit and talk with students, faculty and staff was presented jointly by the Stephen B. Luce Library Lecture Series and the Maritime College Distinguished Leadership Speaker Series.
"Scott Kelly is an exceptional example of how far a Maritime College degree can take you, and just what an individual can achieve with determination, passion and integrity," said Dr. Joseph Hoffman, provost and vice president for academic affairs at Maritime College. "We were proud to select his book as our inaugural Community Read and are delighted to host him on campus again. His message and his career can inspire people around the world, and particularly those who are just beginning along the path that took him so far."
After graduating from SUNY Maritime, Kelly joined the Navy as an aviator and was selected to become a test pilot in 1993 and has logged more than 8,000 flight hours and more than 250 carrier landings. In 1996, he was selected by NASA for its space shuttle program. He has flown four space flights and served as commander of the International Space Station.
Kelly gained international fame when he left for his last space mission in March 2015. The mission's focus was to determine and study the effect of long-term space flight on human health. When Kelly landed in March 2016, he held the American record for the longest time in space. During the mission, part of Kelly's responsibilities was to measure, track and record various health data to compare with those of his identical twin brother and retired astronaut, Mark Kelly. The study is ongoing and will continue to track how the Kelly brothers' health records diverge as a result of the prolonged mission.
Kelly has been extremely engaged with his alma mater.  On a number of occasions, he has talked with students, once through a video chat from space.  He was recognized at the College's premier fundraising event, the Admiral's Scholarship Dinner. He also included a Maritime College flag among the items he brought to space.
Upon his return, Kelly began writing a book, "Endurance," that chronicles his life and career in the military and in space, including his years as a student at Maritime College.
Kelly's book was chosen as the inaugural text for the Community Reads program making it required reading for all incoming students. The book has been taught this semester in all of the Freshman Lead 101 courses and several of the freshman English courses. The Community Reads program was established to promote class unity and give the students a common experience to begin building their college-level academic abilities and friendships with their new classmates.
His visit to campus included classroom visits and a 3 p.m. book talk with members of the freshman class. The talk was streamed live.