Follow the Ship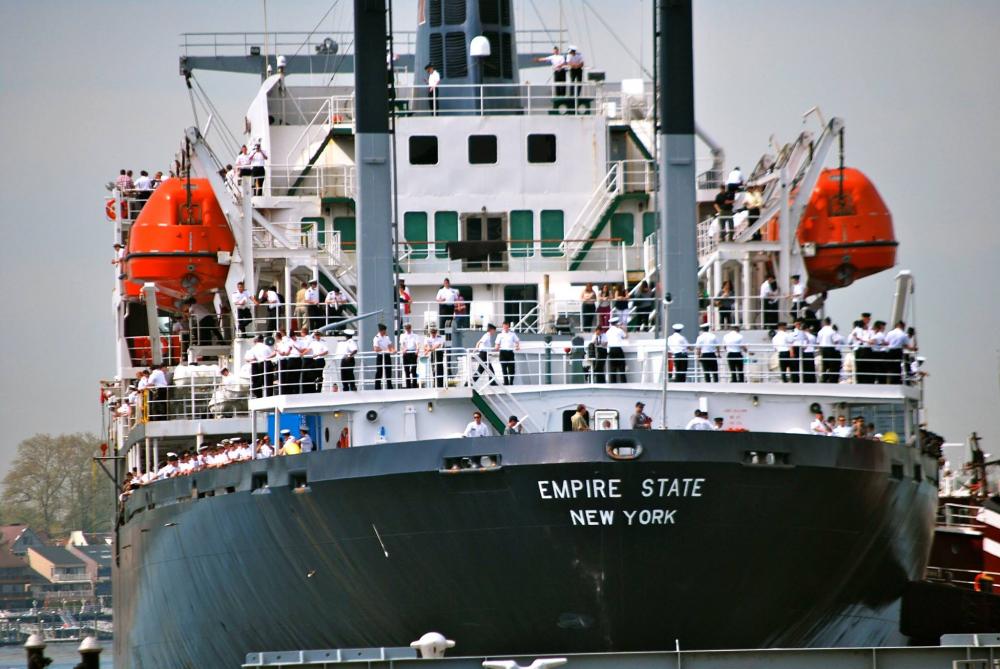 The Empire State VI left SUNY Maritime May 7, bound for San Juan, Puerto Rico. It will return to campus August 10. Over the summer, it will travel to Palma, Mallorca; Glasgow, Scotland; Gaeta, Italy; and Ponta Delgado, Azores. 
Change-Out Information
CHange out is Wednesday, June 20
Flight information for students returning to New York from Glasgow is below. If anything changes, updates will be posted below.
Returning from a split
Departure

from Glasgow

June 20, 2018

4:50 p.m. Local Time

Arrival at

Newark

 

Flight: OR 7657

Terminal B

Arrival: 8:51 p.m.

June 20, 2018

 

Students are expected to

take an hour to clear customs.

They should exit the 

terminal around 10 p.m.

There is no transportation 

from Newark to SUNY Maritime.
departing on b split
Departure from

Newark

 

Flight: OR 7658

Terminal B

 

Meet at Main Terminal at 6:30 p.m. June 20

Group will sign in together;

there is no gate.

Flight leaves at 9:30 p.m.

Note: there is no transportation

from Maritime to the airport

Bring:

TWIC

Passport

 

Original documents only

Copies will not be accepted

Arrival at

Glasgow

June 21

9:30 a.m.

Buses will take students 

from the airport

to Empire State VI

(about three miles)
Send Mail to Your Cadet
Mailing address for Glasgow:
Inchcape Shipping Services
?/C Cadet Name C/O TS Empire State
Unit 5B
Earls Court
Earls Gate Business Park
Grangemouth
FK38ZE
Send letters only. No packages will be accepted. 
Email Your Cadet
All cadets have an onboard email address: firstname.lastname@ts-empirestate.com.
The onboard email system uses satellites. Sending and receiving messages is not instantaneous as it is with land-based email accounts but fluctuates based on satellite connectivity. Please keep this in mind when you are waiting to hear from your cadet. Attachments cannot be sent or received onboard the ship. In case of an emergency that you don't wish to communicate via email, please call Joann Sprague, regimental assistant, at (718) 409-7352, and she will relay the information for you.
For questions or general information, email sst.inquiry@sunymaritime.edu.