Faculty Student Association Scholarship
The deadline for the FSA Summer Sea Term 2017 Scholarship has past (February 13, 2017).
The departure of the Empire State VI in support of Summer Sea Term-2017 (SST-17) is rapidly approaching. Maritime College officials and staff are doing their utmost to support this important training experience and to provide the most culturally diverse ports for you to visit as you journey around the world. The Maritime Business Office has been busy compiling the total cost to the College and calculating the fees required to ensure the experience meets Maritime's academic goals and to provide an experience you will not forget. Please see the outlined fees below and the itemized breakout. We have made every effort to hold down the total cost of participation.
The final costs of SST-17 include:
Tuition for the credits earned
Food (Chartwells)
Maintenance

Ship's Crew
Supplies
Equipment
Fuel
Internet/email services
Cost of the plane (change out Lisbon, billed separately if applicable)
International insurance (mandatory and billed separately)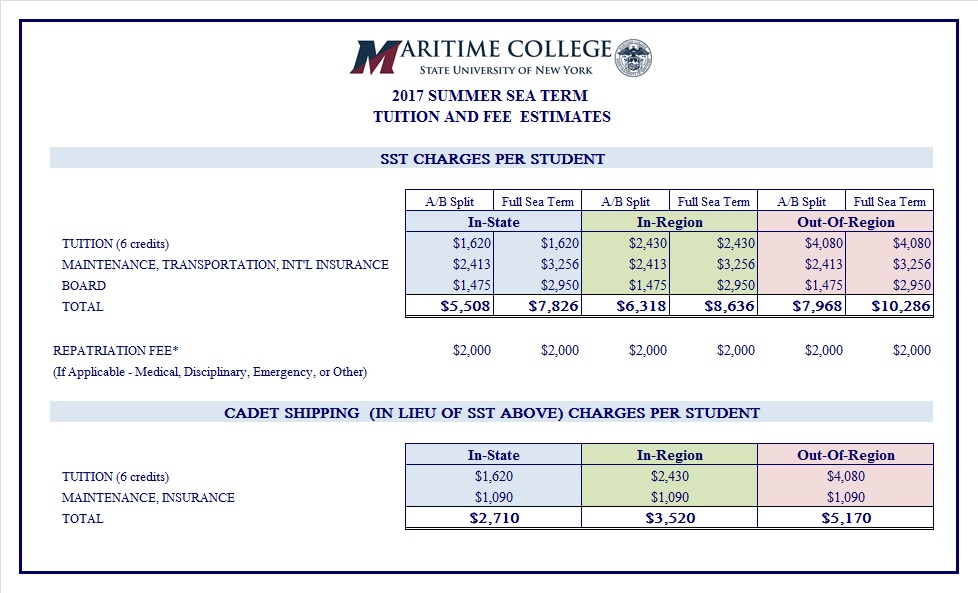 Two Half Summer Sea Terms (A and B): It is SUNY Maritime College's policy to assess students full tuition and associated fees for each of the two half summer sea terms for those students who have been granted permission from the College to register for two half summer sea term academic courses (12 credits) in one summer. As this practice allows the respective student the ability to make-up summer sea term requirements by completing two half cruises in one year, the College will not trade or waive two half summer sea terms cruises for a full summer sea term cruise.     
Repatriation: SUNY Maritime College assesses a repatriation fee when any member of the Ship's compliment is returned to the vessel's place of origin prior to completion of the term or their assignment. For this purpose, the definition of place of origin is the SUNY Maritime College campus located at 6 Pennyfield Avenue, Bronx, NY 10465. The repatriation fee is to cover expenses incurred by SUNY Maritime College to return the person repatriated for cause to the place of origin during the course of the cruise. This fee is a SUNY Maritime College fee, exclusive of any other costs the individual may incur.