Ship Return
The Empire State and its crew of student-cadets will return to Olivet Pier around 10 a.m. Friday, August 10. All are welcome to come to campus to welcome our students home.
Sea bag pick-up from a split
Students from A split who need to pick up their sea bags and bed rolls may do so at the following times:
10 a.m. to 2 p.m. Tuesday, August 14
10 a.m. to 2 p.m. Thursday, August 16
10 a.m. to 2 p.m. Wednesday, August 22
2 p.m. to 4 p.m. Sunday, August 26
Follow the Ship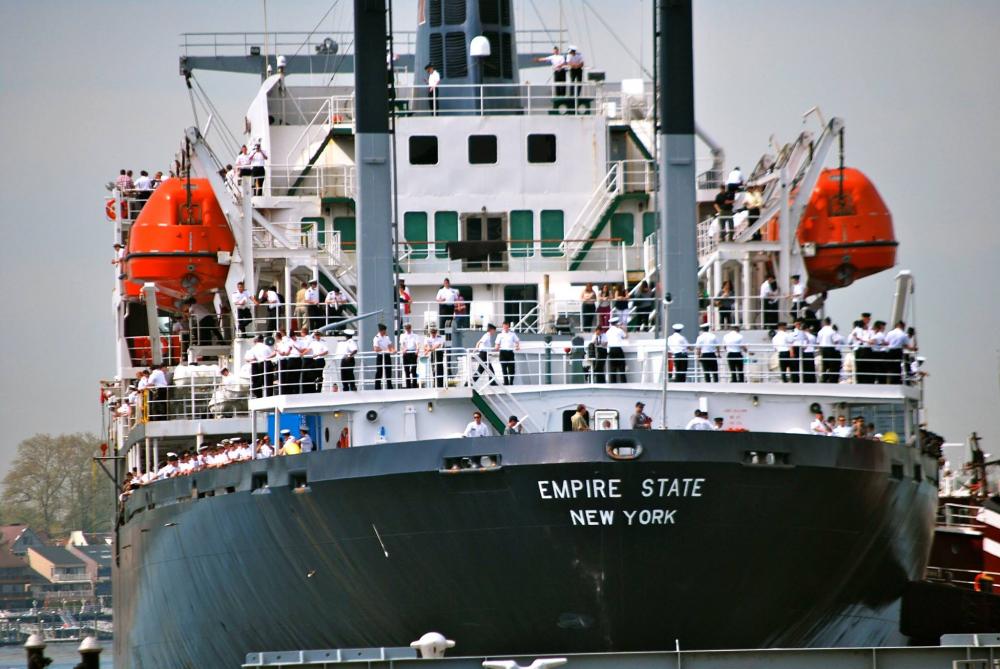 The Empire State VI left SUNY Maritime May 7, bound for San Juan, Puerto Rico. It will return to campus August 10. Over the summer, it will travel to Palma, Mallorca; Glasgow, Scotland; Gaeta, Italy; and Ponta Delgado, Azores. 
Send Mail to Your Cadet
Send letters only. No packages will be accepted. 
Email Your Cadet
All cadets have an onboard email address: firstname.lastname@ts-empirestate.com.
The onboard email system uses satellites, and sending and receiving messages is not instantaneous; it fluctuates based on satellite connectivity.
Attachments cannot be sent or received onboard the ship. 
In case of an emergency that you don't wish to communicate via email, please call Joann Sprague, regimental assistant, at (718) 409-7352, and she will relay the information for you.
If you have a question or need additional information, email sst.inquiry@sunymaritime.edu.