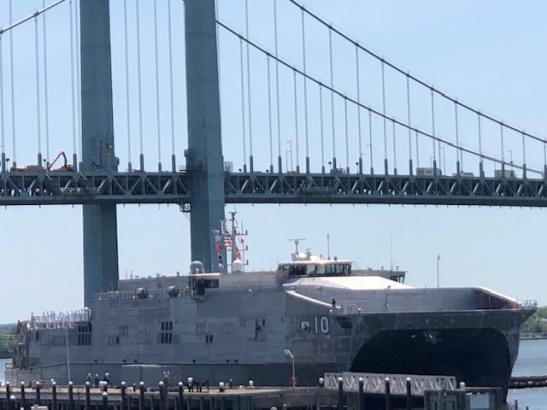 Fleet Week NYC 2019 brought a record-breaking number of students, community groups and the general public to SUNY Maritime College for a chance to board and tour the USNS Burlington, a Spearhead-class expeditionary 338-foot-long aluminum catamaran designed to be fast, flexible and maneuverable. Throughout its five-day stay at Olivet Pier, over 4,000 people took part in Fleet Week celebrations – the highest number recorded for ship tours in the three years since U.S. Navy ships began docking at Maritime College for Fleet Week.
Student groups who visited the USNS Burlington also participated in various STEM activities set up around campus and learned about buoyancy, oysters and their role in New York Harbor restoration, and the art of knot tying. The Maritime College campus was open for students and visitors to explore and consider careers in the maritime industry.
Fleet Week is a time-honored, annual celebration of the sea services and this year, Olivet Pier at SUNY Maritime College was privileged to host the USNS Burlington and its crew of 26 civilian mariners, and the FDNY Marine 6 Division fireboat.