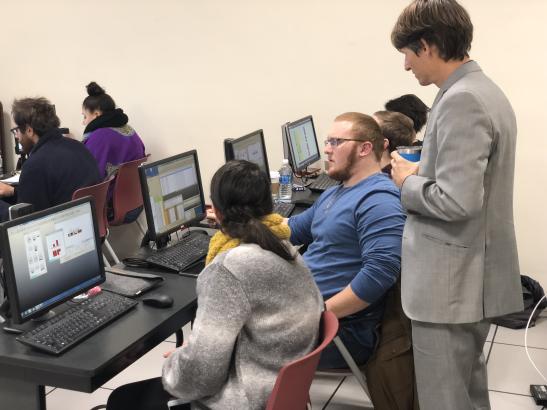 Students receive training on N4 Software, award-winning software and gain exposure to critical job skills for the maritime industry
Navis, a part of Cargotec Corporation and a provider of operational technologies and services that unlock greater performance and efficiency for organizations across the shipping supply chain, has partnered with SUNY Maritime College to train undergraduate and graduate students on the N4 terminal operating system that manages more than 300 container terminals worldwide.
"Navis was thrilled to participate in the N4 college training program," said Andy Clason, Navis' Vice President of technical services. "Through the university outreach and training curricula, we help students prepare for careers in the real world of container terminal operations. Increasingly, literacy in the specialized technology used by these terminals is key for new workers joining the industry. For many marine terminals, Navis software is a central part of that technology infrastructure, and knowing about it right out of the gate really gives new graduates a leg up."
Based on a typical two-week training session that customer ports undertake to get certified, Maritime students received a condensed, three-day course to familiarize them with the program and expose them to potential career paths in the diverse maritime industry. During the training, the students learned the basic components and functions of the program and began to plan the workflow to load and unload a vessel. Following the training sessions, each student received a certification in the program.
"I like operations and seeing shipping operations in terms of ports and terminals is really interesting," said Scott Dunn, a senior International Transportation and Trade student from Bayville, New York. "There's work in ports and this is something that's really specialized.
This might make me rethink my entire career."
The training was one component of an extracurricular exploration of ports and terminals. Through these programs, students participated in a case competition at the Intermodal Association of North American annual conference; explored the ports of Long Beach and Los Angeles; and visited an intermodal facility in Chicago.
"So much is going on in port and terminal operations as the maritime industry becomes more integrated and automated, and students need to be exposed to as much of it as possible," said program organizer Chris Clott, Maritime's ABS chair of marine transportation and logistics, "As digital natives, it comes naturally to them; they are fascinated by it. And that's great because they are going to be the ones who take these technologies to the next level and modernize the industry."