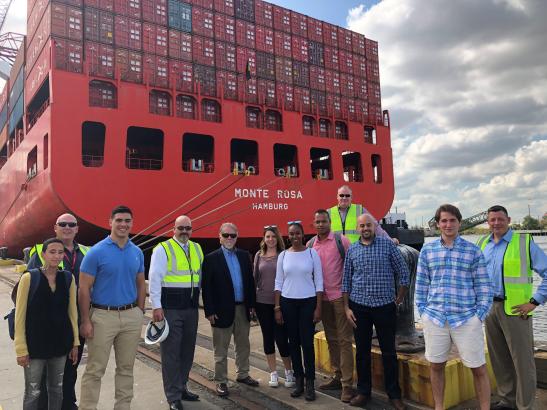 Students in Maritime College's International Transportation Management graduate program recently visited a Staten Island container terminal to explore a container ship and the port.
During their visit, the seven students were shown around the Global Container Terminals site and the 5,000-TEU Monte Rosa, a container ship capable of carrying more than 80,000 tons of cargo.
Three Maritime alumni who work at the terminal showed the students around: Rob Cannizzaro '94, '07, vice president of marine and terminal operations at Hamburg Sud; Dan Mulligan '90, director for Global Container Terminals; and Todd Stevens '93, general manager for Global Container Terminals.
During the tour, the alumni and Stan Miklas, manager of Hamburg Sud's New York terminal operations explained how such large terminals are managed, including scheduling berthing for incoming ships, loading and unloading cargo, and other operational tasks.
The students are all part of one of the core courses, "Transportation Management," taught in the master's in International Transportation Management program. Dr. Larry Howard teaches the course on campus and Rob Cannizzaro teaches it online.
In photo, from left to right:
Genesis Agosto; Miklas; Mario Colangelo; Cannizzaro; Howard; Mirjam Koekstra; Tajae Harripersad; Ewan Myrie; Mulligan; Nart Abu Zahara; Devon Gamba; and Stevens