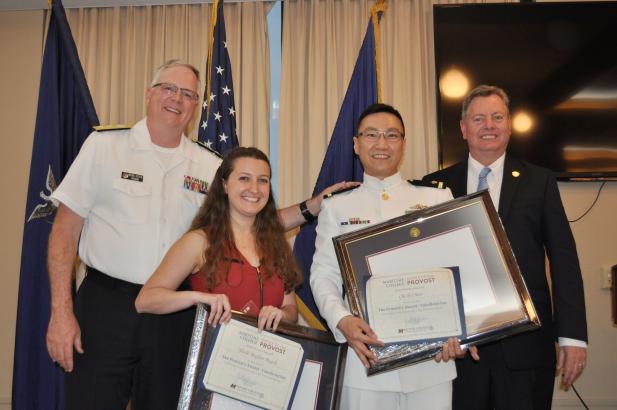 More than 60 SUNY Maritime College students were recognized in two ceremonies at the end of the academic semester.
The first ceremony, hosted by the Office of Student Affairs, honored approximately 20 students who were nominated by different departments and offices for their contributions to the college over the academic year.
The second, organized by the Office of the Provost, gave companies and individuals from the maritime industry a chance to recognize graduating seniors and applaud their accomplishments over the course of their Maritime careers.
"Our outstanding students make our co-curricular life at SUNY Maritime robust, exciting and fulfilling," said Ariane Romeo, Assistant Dean of Students. "Their dedication in making our community one that is vibrant and diverse, is evident through their programs, ideas, volunteerism, and charities. Students who are involved outside of the classroom statistically stay in school, do better in school and graduate on time."
The Office of Student Affairs' annual Student Recognition Event recognized the following students:
Laura Fogarty, Resident Assistant of the Year
Olivia Mihaljevich, Building Manager of the Year
Stephen Trantel, Educational Opportunity Program Student of the Year. The following EOP students were also recognized: Elias Alvarez, Malachi Harewood, Nicholas Cheng, Jose Rodriquez, Jose Villatoro, Hellary De Los Santos Matos, Ethan Sanchez, Steven Martinez, Justin Dela Cruz, Sachin Kuruthuklamgara, Amy Torres
Claudino Luciano, International Student of the Year
Omalika Lipp, Health Services Hero
Sven Axelsson, Outstanding Seamanship Award
Spencer Ragonesi and Bryan Keegan, Fourth-Class Leadership Award
Kyle Kinsely, Maura Neely, Third-Class Leadership Award
Justin Weigold, Christopher Ladd, Isabella Kent, Second-Class Leadership Award
Christopher Paccione, Michael Manuella, Hannah Leese, Gabrielle McCraken, Second-Class Training Award
Ian Smith, Patrick Salvador, Kite Chen, Liam Hood, First-Class Leadership Award
Men's and Women's Swimming and Diving Team receive the Community Service Event of the Year Award for their work on hosting the Special Olymics New York, Long Island Region pool events
National Society of Black Engineers, Cultural Club and Young Americans for Freedom, Club of the Year Award
Luke Peterson, Eight Bells yearbook; Ameera Khan, Commuter Club; and Thomas Boylan, Newman Club, were named Club President of the Year
Nicholas Piazza, Maritime Activities and Programs Recognition Award
Luke Peterson, Eight Bells Yearbook Recognition Award
Sean Carswell, Club Advisor of the Year, for National Society of Black Engineers
Kenneth Reicherter, Fort Schuyler Wanna Be Award, given to a person who demonstrates great pride and love for Maritime College
Zach Miller, Student Government Association Member of the Year
To view photos of the Student Recognition Ceremony, click here.
The Senior Awards Ceremony, organized by the Office of the Provost, allowed the following donors to give gifts to some of the best graduating seniors:
American Bureau of Shipping Award, presented to Nicole Meghan Megale by Dr. Carl Delo, Engineering Department chair
American Institute of Marine Underwriters Award, presented to Elias Toney by Dr. Robert Edmonds, chair of the Global Business and Transportation Department
American Maritime Officers Service Award, presented to Serhiy Dmytruk by Dr. Carl Delo and to Sven Axelsson by Capt. Anthony Palmiotti '79, chair of the Marine Transportation Department
Applied Weather Technology Award, presented to Devin Waggoner by Carl Hausheer '79
Association of Average Adjusters of the United States Award, presented to Roseleen Frawley by Professor Dennis Cooney '79
Robert J. Braun Award, presented to Roger Ransom by Robert J. Braun '75, principal of Genesys Engineering
Robert C. Johnson Award, presented to Thomas Palicka by Robert Crafa, Maritime waterfront director
Kirby Offshore Marine Academic Excellence Award, presented to David Schmidt by Capt. Eric Johansson MS '00, vice chair of the Professional Education and Training Department
James Lynch Memorial Award, presented to Declan Albert by Thomas Breglia '80
Marine Society of the City of New York Award, presented to Kyle Haley by Capt. Timothy Ferrie '78, president of the Marine Society of New York
Maritime Association of the Port of New York/New Jersey Award, presented to Charles Burcham by Edward Kelly, executive director of the Maritime Association of the Port of NY/NJ
Maritime College Humanities Award, presented to John Accetta and Ryan Underwood by Karen Markoe, chair of the Humanities Department
Maritime College Stephen B. Luce Library Award, presented to Jasmine Ferguson by Corey Halaychik, director of the Stephen B. Luce Library Award
Maritime College Marine Transportation Award, presented to Brady McMurtry by Capt. Robert Johnston '69, chairman of the SUNY Maritime Foundation
Maritime College Outstanding Athlete Award, presented to Thomas Korwan of the football team and Shannon Brady of the volleyball and women's lacrosse teams by Kristopher Schnatz '99, director of Athletics
Maritime College Parents Association Award, presented to Connor Hughes by Valerie Pfundstein, president of the SUNY Maritime Parents Association
Maritime College Provost Award, presented to Chi To Chan and Nicole Meghan Megale, valedictorians, by Dr. Joseph Hoffman '75, Provost and Vice President for Academic Affairs
Maritime College Regimental Leadership Award, presented to Aaron Schiavoni and Bryan Maidana by Capt. Catie Hanft '85, acting Commandant of Cadets
Maritime Safety Management Award, presented to Briana Darcy and Logan Memoli by Ralph Melussi '67
Masters, Mates and Pilots Good Shipmate Award, presented to Aaron Schiavoni by Sean Fitzgerald '09
McAllister Towing – Excellence Award, presented to Brady McMurtry by Capt. Eric Johansson MS '00, vice chair of the Professional Education and Training Department
National Cargo Bureau Excellence in Cargo Operations Award presented to Zachary Worthington by Capt. Eric Rounds '94
National Radio Examiner's Marine Communications – GMDSS Award, presented to Briana Darcy by Capt. Christopher Begley '82, faculty in the Marine Transportation Department
Erika and Matthew Ryan '00 Award, presented to Carly Keane by Dr. Kathy Olszewski, chair of the Science Department
Sandy Hook Pilots Association Award for Bridget Resource Management, presented to Steven Ford by Capt. Timothy Ferrie '78, president of the Marine Society of New York