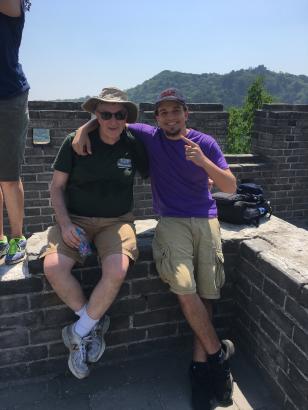 Joe Firrincieli is an International Transportation and Trade major from Flushing, New York.
Why choose Maritime?
I learned about Maritime from my godfather my senior year of high school. He told me to look into Maritime because I've always loved anything nautical. I knew that if I went here I could stay close to the water and do well for myself in the long run. It all seemed like a perfect fit.
Why come to Maritime as a traditional student?
I have respect for everybody that wants to ship out or work on a boat, but I know that's not for me. I have more interest in the maritime industry itself. It's also easier for me as a commuter; I work a lot so I wouldn't have time for the regiment. What I'm doing is perfect for me.
Where is your favorite spot on campus?
I love fishing on campus. It's a great way to unwind after classes and hang out with friends, which is why I joined the fishing club too. The pier is my favorite spot on campus.
What's your favorite class?
My favorite class was probably marine insurance with Professor Cooney. Prior to that I don't think I really grasped how complex the industry is. His knowledge on everything related to the topic impressed me, and I was surprised how much of it he explained to us. I learned a lot, and it got me interested in the marine insurance field for after I graduate.
Tell us about your study abroad experience.
I never thought about going to Asia, so I was excited when I heard about the opportunity. It was my chance to see the heart of the shipping industry, to gain some firsthand experience, and to see cultures on the other side of the world.
Everything we saw was memorable and I learned more than I thought I would. I knew about Asia from textbooks, but that didn't compare to seeing everything with my own eyes.
I got to see how big the shipping industry is. I knew Asia has the biggest ports in the world, but it didn't hit me until we talked to executives who moved to Shanghai or Hong Kong from rural America. They went across the world because they knew they could do well for themselves there. It really got me thinking about what you can do in this business.
What was your favorite visit on the trip?
My favorite city was Hong Kong because it is a diverse and vibrant city with a culture that mixes Chinese tradition with Western influences. My favorite company visit was Johnson Electric, a small motors manufacturer, also in Hong Kong. That visit opened my eyes to the amount of money involved in shipping containers across the world.
I never realized how detailed supply-chain logistics are, or how even small costs add up. The trip gave me a perspective that I apply to all my classes now. I have a broader world view because I got to see the world.