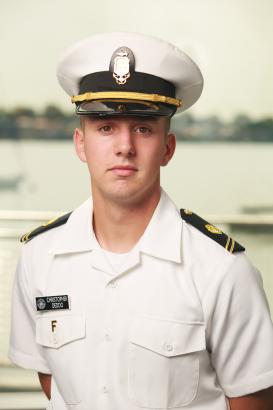 Chris Deddo, a senior Marine Environmental Science major from Staten Island, this spring received the State University of New York Chancellor's Award for Student Excellence.
Deddo has been a leader on the SUNY Maritime College campus since he arrived four years ago. Captain of the Skyline Conference championship baseball team, former Student Government Association president, leader in the college regiment of cadets, Deddo will earn his bachelor's degree, U.S. Coast Guard license and a commission into the U.S. Marine Corps in May.
"Chris has left an indelible mark during his four years at Maritime College," said Will Imbriale, dean of student affairs. "His selfless devotion to his school has undoubtedly inspired those around him, as he has always strived to work for the greater good. He truly exemplifies Maritime College's principles of loyalty and valor in all of his endeavors."
Deddo has played for the Privateers baseball team throughout his four years at Maritime, earning the rank of captain his sophomore year. He was a starter for three years, named all-conference player three times and was the Skyline tournament player of the year in 2017.
Deddo is not just visible on the diamond; he is a member of the national Student-Athlete Advisory Council to advocate and discuss issues related to collegiate athletics. He was selected to represent the Skyline conference to the national body – one of 22 Division III athletes across the country selected. In that role, he led several panels and discussions, including an LGBTQ working group.
On campus, Deddo has been involved in the Student Government Association for four years, including serving one term as president. He is active in the college regiment of cadets, where he served as an indoctrination training officer, leading and guiding incoming freshmen through the intensive 10-day program and helping them adjust to the regimented lifestyle, rules and regulations.
When he graduates in May, Deddo will make one more commitment to service. He will earn his commission as a second lieutenant in the U.S. Marine Corps. Over the summer, Deddo spent 12 weeks training aboard Marine Corps Base Quantico in the officer's candidate school's Platoon Leaders Course. He passed the rigorous course and will report for duty after graduation.
"I am immensely proud of these students, who have demonstrated academic excellence and dedication to enriching their campuses and communities," said SUNY Chancellor Kristina M. Johnson. "From research publications in industry journals to volunteering in hospitals and local clinics to holding leadership roles at their institutions, I am inspired by each student we recognize today, including Chris Deddo from SUNY Maritime. Congratulations to all of the students receiving this year's award."
Deddo was one of 249 students from across the State University of New York system to receive the award.