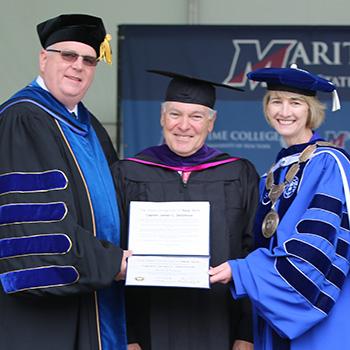 On May 3, 2019, SUNY Maritime's Commencement Keynote Speaker Captain James C. DeSimone '73, Deputy Commissioner & Chief Operating Officer of the New York City Department of Transportation Staten Island Ferry, was awarded an honorary Doctor of Science degree. The honorary doctorate is the highest form of recognition offered by the State University of New York system and is awarded to individuals of exceptional distinction. Captain DeSimone is a Bronx native who has served in his current position with the New York City Department of Transportation since 2004.
During his Keynote Address, Captain DeSimone told graduating students, "You have been raised in world of ever changing technology and Maritime College has provided you with a great education, broad based technical skills and human skills. This type of education provides you with the basics to leave here today and embark on a personally fulfilling and professionally successful career."
Captain DeSimone was hired to bring safety and stability back to the Staten Island Ferry and is credited with regaining the public's trust and implementing a fleet-wide safety management system, a first for a public ferry system in the United States. During his tenure, the Staten Island Ferry has been recognized as a leader in maritime safety by the National Transportation Safety Board, U.S. Coast Guard and the Passenger Vessel Association. He holds a current U.S. Coast Guard Unlimited Master's license, a Bachelor of Science degree from SUNY Maritime College, A Master of Business Administration degree from Manhattan College, and a professional certificate in chartering from the Association of Ship Brokers and Agents.