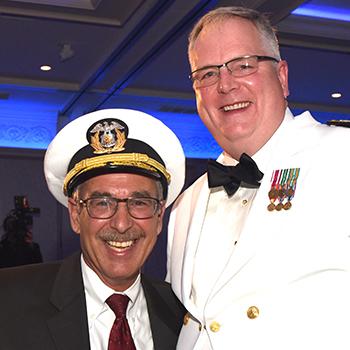 April 30, 2019 was an evening filled with celebration and recognition as almost 700 guests including maritime industry leaders, alumni and supporters of SUNY Maritime's mission gathered to contribute to student success and pay tribute to the Dinner's Honoree Companies, Hornblower and Fresh Meadow Mechanical Corp. The Dinner is one of Maritime's most significant funding events in which 100 percent of proceeds are applied towards meeting the needs of current and future students.
One of this year's Honoree Companies and Award Recipients, Hornblower, was founded by Terry MacRae in 1980 who serves as its CEO. Recognized as a national dining cruise, tourism and ferry service company, Hornblower's state-of-the-art vessels have sailed past famed landmarks throughout North America and delivered incredible experiences to millions of tourists, locals and commuters across the country. Among the Hornblower family of companies includes Statue Cruises, the official provider of ferry service to the Statue of Liberty National Monument and Ellis Island Memorial Museum since 2008. Hornblower also operates the Niagara Fall Gorge Boat Tour from the Canadian side of the river, the ferry service to Alcatraz Island in San Francisco, as well as New York City's Ferry service, which has a ridership of over eight million across its six routes and employees close to 400 crew members from the New York area.
Hornblower has established a key partnership with SUNY Maritime College and the next generation of maritime professionals. In addition to using the College's full-mission bridge simulator to train their new captains and providing internships and career opportunities with Hornblower, approximately 25 percent of the NYC workforce are SUNY Maritime College graduates.
This year's other Honoree and Award Recipient, Fresh Meadows Mechanical Corp. is a privately held company with over 25 years of experience in mechanical construction projects including plan and specification services, design-build, value engineering, and turn-key projects. Fresh Meadows specializes in power plants; residential high rise and commercial buildings; chemical, pharmaceutical and industrial buildings; and a variety of renovation projects. Among Fresh Meadow's points of pride is its work on NYC iconic buildings such as AOL/Time Warner and the National September 11 Memorial & Museum. Fresh Meadow leaders, Michael Russo, John Valvo and Russell Thompson have consistently sponsored the Admiral's Dinner and generously supported student scholarships. John Valvo, a 1983 graduate of Maritime College was pleased and honored to have won the bid for the Admiral's Cover at the event's scholarship auction.