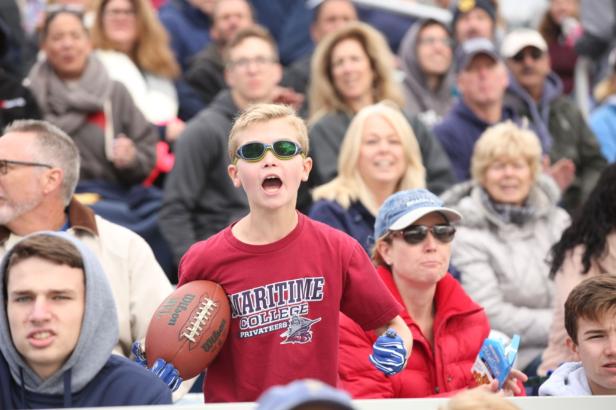 Parents and families are welcome to participate in the following events:
Friday, October 18
WILL IT FLOAT RACE
4 p.m.
Waterfront behind McMurray Hall
Cheer for your student and their friends as they build boats out of cardboard and duct tape and race them across the East River basin on campus.
Mug Meal on the Mess Deck 
6:00 p.m.
Mess Deck 
Dine like a cadet with the Mug Class of 2023! Pay at door- $12 all you can eat.
MOVIE UNDER THE STARS
8 p.m. 
Location TBD
Bring a blanket or a chair and come watch a movie on a jumbo screen. Film to be announced.
HALL OF FAME INDUCTION CEREMONY          
TBD
This year marks the beginning of a new era for the Maritime Athletics Hall of Fame. The last induction class to receive this honor was in 1999, and with the help of the Athletics Advisory Board, the athletic department is excited to bring this prestigious honor back to the college.
Saturday, October 19
Parent's Association Continental Breakfast
9:00 a.m. 
Pentagon
MUG Parents are invited to mix and mingle with members of the SUNY Maritime Parent's Association. Then, stay to watch your cadet in the Pass in Review Ceremony
Pass in Review 
10:30 a.m.
Pentagon 
Parents are invited to join the morning's Pass in Review ceremony in historic Fort Schuyler. 
Maritime Museum Auction 
10:00 a.m.
Vander Clute 
Museum Silent Auction- Seek your treasures and support the museum! Bid for vacations, sailing cruises, dinners, and more. Winners will be announced at football game half-time.
Football Tailgate 
11:00 a.m. 
Parking Lot #2
Seasonal pricing. 
Reservation required in advance. Contact maritimeathletics@sunymaritime.edu or 718-409-7330.
HOMECOMING LUNCH - FOOD TRUCKS AND BEER GARDEN 
Noon 
Baseball Field 
Join other alumni for food, fun and a great view of the football game. Must be at least 21 to enter the beer garden.
Register here.
LUNCH AT THE MESS DECK 
Noon 
Mess Deck
All are welcome! Pay at door- $12 all you can eat.   
CAMPUS TOURS 
Noon
Vander Clute/ Quad in front of Vander Clute Hall
Register online for a tour of campus!
WATERFRONT ACTIVITIES  
Noon
Waterfront behind McMurray HallActivities for all ages. Children under 18 must be accompanied by an adult.
Powerboat Tour of Maritime's Campus
Board the College's USCG Surfboats for a tour with the Small Vessel Club– see the campus from a whole new perspective! Tour lasts approximately 20 minutes.
Sailboat Rides in the River
Enjoy a relaxing 30-min sail aboard a  23' keelboat. Take the helm or sit back and soak in the beauty of the East River. No experience necessary.
Stand-up Paddle Boards and Kayaking
Paddle around the inner basin, Olivet Pier and the shores of Maritime College.
Kids Activities 
Baseball Field
FOOTBALL GAME 
2 p.m.
Reinhart Field
Cheer for the Privateers against the Castleton University Spartans.