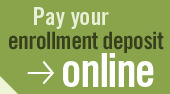 Congratulations and welcome to SUNY Maritime!
This page will help you keep on track with deadlines and other information as you get closer to graduating from high school.
Enrollment Checklist: 
o   October 1, 2016 – Complete and submit your FAFSA.
o   May 1, 2017 - Submit enrollment deposit and statement of intention form
Access "My Maritime" Email upon receipt of your deposit and Statement of Intention

*The first time you sign onto Maritime Self-Service, your PIN will be your date of birth in MMDDYY format.
o   May 19, 2017 - Register for placement testing; submit Transportation Worker Identification Card (TWIC) application (regimental students only)
Students living 65+ miles from the Maritime College campus can choose to have their placement exam proctored at their high school, local community college, library, etc. Click here for proctor form.
o   June 7, 2017 - Submit orientation form, non-refundable uniform deposit, health forms, and online housing application; accept financial aid
o   June 8, 9, or 10, 2017 - Attend placement testing
o   July 17, 18, 19, 2017 - Attend orientation
o   July 17, 2017 - Submit official final high school and/or college transcripts; final deadline for regimental students to apply for TWIC
o   August 7, 2017 - Pay your bill including full college bill, full uniform payment and Indoctrination fee (uniform and Indoctrination fee regimental students only).
o   August 16, 2017 - Report to Indoctrination (regimental students)
o   August 27, 2017 - Move-in for non-regimental (civilian) students
o   August 28, 2017 - First day of classes